Starbucks will close all its company-owned stores in the U.S. during the afternoon of May 29 in order to give racial-bias training to employees, an outgrowth of the incident involving two African-American men at one of its coffee shops in Philadelphia last week.
The anti-discrimination instruction is "designed to address implicit bias, promote conscious inclusion, prevent discrimination and ensure everyone inside a Starbucks store feels safe and welcome," according to the company announcement made on Tuesday.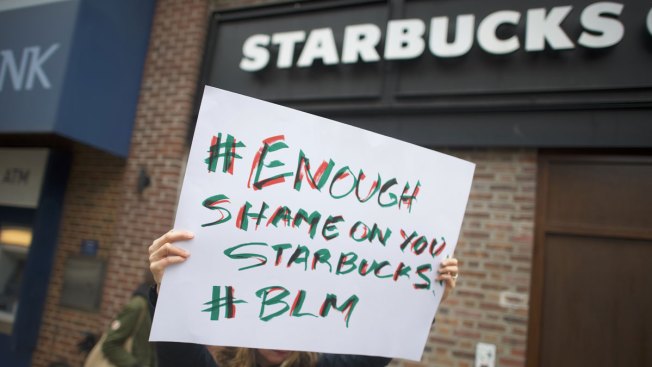 The Seattle-based chain has come under fire after staff at one of its Philadelphia locations called the police on two African-American men when they didn't buy anything and asked to use the restrooms. The men were told restrooms were only for paying customers only and they explained they were waiting for a friend, who later arrived. Police arrested them, though Starbucks didn't press charges.
The CEO apologized for Thursday's incident and on Monday, the coffee giant confirmed that the Philadelphia employee who called the police is no longer with the company.
Check out the video below of the incident.
There are more than 8,000 company-owned Starbucks restaurants in the country, employing close to 175,000 people, the company said.
"While this is not limited to Starbucks, we're committed to being a part of the solution," CEO Kevin Johnson said in a statement. "Closing our stores for racial bias training is just one step in a journey that requires dedication from every level of our company and partnerships in our local communities."
The curriculum will be developed with help from national and local experts, including former U.S. Attorney General Eric Holder; Sherrilyn Ifill, president and director-counsel of the NAACP Legal Defense and Education Fund; Bryan Stevenson, founder and executive director of the Equal Justice Initiative; Heather McGhee, president of the public-policy public policy organization Demos; and Jonathan Greenblatt, CEO of the Anti-Defamation League.
According to Starbucks, the panel will also help review "the effectiveness of the measures" the company undertakes.
"Earlier this week, Starbucks began a review of its training and practices to make important reforms where necessary to ensure our stores always represent our mission and values by providing a safe and inclusive environment for our customers and partners," the company said.
According to Starbucks, the racial-bias training materials will be made available to other companies to use.
The chain has more 25,000 stores around the world.
Be sure to follow the site and keep up with Starrdom100 Blog on Instagram!