Written By: Tanisha D. Davis
Where do I begin to express how amazing this film was?
Let me first say that this film is everything that we imagined it would be, and well worth the wait. After seeing numerous trailers and watching countless interviews from the cast about what to expect from the film, I am well pleased that the long awaited anticipation was everything I hoped it would be. Outstanding job from the entire cast and the producers of this sensational film, that managed to ignite my mental in every way possible!
This film was filled with so much passion and emotion for the culture that was represented in this fictional African nation called, Wakanda. There were times when watching the battles that I myself was ignited with a fire deep within that yearned to be part of such a great nation as this fictional place. There was a powerful message that I discovered in the film that I was not expecting.
I imagined a battle that would take place among outsiders but realized later on that the largest battle was within for Wakanda. We had created a battle within ourselves because of a bad decision. We had left behind something that was part of us because we were afraid of what it could become, therefore creating a monster.
This message once discovered spoke volumes to my soul. As a young African American woman, my mind began to think about what all we as a nation of intelligent black people could have had if we had not grown up neglected away from our true culture, and who we really were before being stolen from our lands. We were lied to and taught to hate ourselves, therefore creating monsters within because we were not welcome or felt that we belonged anywhere. We were lost, awaiting the moment to be found or an opportunity to get back to where we came from.
There was pain, anger, and sympathy in the film for Erik Killmonger (Michael B. Jordan) because we all can relate to the feeling of growing up in a land separated from a royal nation of intelligent people. Imagine being of a royal background and being left out of the experience and lifestyle that you could have been living. Imagine being rich but what you see around you has taught you that you are poor and nothing.
Think on that. Imagine the anger that would build up inside you causing you to fight daily and be angry not because of where you are, but because you never knew that where you are right now, is not who you ever truly were created or born to be.
It made sense why he had spent so much time seeking a way to get back to his roots and claim a privilege that had been taken away from him without choice. Erik Killmonger is an example in many ways of black people in America.
Many of us are still fighting to identify ourselves and be restored back to the culture that we had stolen away from us.
This film made you think and long to be part of something greater than what you see around you everyday. It was action packed and the special effects were amazing!
There were scenes that made you emotional and almost lose hope, but only for a moment, as you watched on the edge of your seat in admiration of that hope being restored by watching the Black Panther rise and conquer!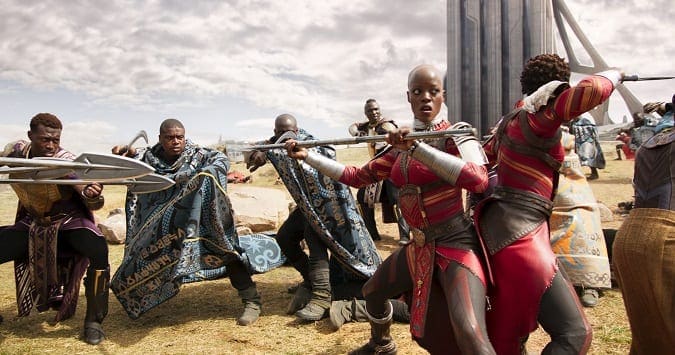 Through this film we discover a passion to rise up and fight against anything that comes to take away our peace. We see a strong, powerful, and intelligent nation of people! The fictional nation of Wakanda was ready to battle each other and others to protect itself from the possible destruction of outsiders. There was a unity like no other!
I encourage everyone to go out to the theaters this weekend and experience this powerful historical film! This is by far the most inspirational black film created by Marvel, and I am very much in anticipation of a sequel, because something tells me that the world is about to know Wakanda and feel the power of the Black Panther!
Be sure to follow the site and keep up with Starrdom100 Blog on Instagram, (@Starrdom100Blog) and follow me, the creator of Starrdom100 Blog on Instagram, (@TanishaDDavis) and on Twitter, (@TanishaD84). 
        SHARE YOUR COMMENTS BELOW ON THE FILM!